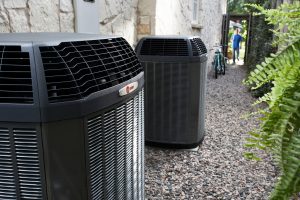 We know, you might be nervous. It's been a few months since you've used your air conditioner. While reconnecting with your AC could get a little awkward, we promise you that it'll get easier.
All jokes aside, air conditioners need to be cared for when they're being taken out of hibernation. Since our climate is one of the hottest and most humid in the country, we're often some of the first people who take our AC systems out to test before the summer starts.
So, if you're asking yourself what should be done before you just rev up the system for another year, we've got you covered. Below, we've provided a checklist of things that can be done to ensure your air conditioner is in great shape for the year ahead of it.  Exercise caution and remember to contact a pro if you need air conditioning repair in Shreveport.
Take Your AC Out of Retirement
It's time to brush off the dust and dirt! Your AC is coming out of retirement, and knowing our climate, it'll be running at full speed very soon.
Remove Covers, Blankets, or Lids
Do you have a fancy air conditioner cover for your central air unit outside? Or perhaps you've got a tarp or blanket that's been keeping it safe all winter long? Well, it's springtime and it's time to remove the covers or lids on your AC system to inspect it. Also, keep in mind that starting your air conditioner with the cover or lid on it is a terrible idea that could cause serious damage to the system. Your AC is meant to operate without anything covering it.
Remove and Inspect Pipe Insulation
Did you insulate your refrigerant or condensation pipes over the winter? Well, it's time to remove the insulation and see if there was any damage. A burst condensation drain or other pipes in your AC system could cause severe problems for the unit when it begins cooling your home. Contact our team if you need help addressing your AC's pipes.
Clean Around Your AC System
The outdoor cabinet of your air conditioner has endured the elements all winter (and fall) long. When inspecting your system, you might notice leaves, branches, pebbles, or other types of debris that were moved over the last few months into the nearby vicinity of your system. It's a good rule of thumb to clear about two feet of the area around your air conditioner to ensure it's got proper airflow for the cooling process.
Change the Air Filter
Well, if it's time to take your air conditioner out of retirement, then it's also time to change the air filter! Did you change your air filter before you retired your AC last year? If you can't remember, don't worry about it. Take out the old filter and check it out for yourself. It's always a good sign to start fresh for the year with a replaced filter!
Need help preparing your AC for spring? Hall's Heating, Air Conditioning & Refrigeration can help! Call the doctor of home comfort today.