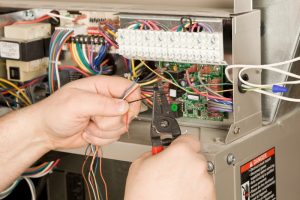 When winter weather arrives, what type of heating system in your home keeps you warm? Furnaces are the most common, and the majority run from natural gas. Not all houses have this option, however, either because they don't have a connection to a natural gas line or because of concerns over the safety of gas-burning systems. In these cases, an electric furnace is a good alternative. An electric furnace costs more to run (electricity is a more expensive energy than gas), but it also costs less to install. An electric furnace can often outlast a gas model.
Here's another benefit: because electric furnaces don't suffer the same level of wear as a furnace that uses combustion gas, they tend to have fewer repair needs over their lifetimes. Annual heating maintenance can drop that already low amount by 85%.
Nothing can prevent all repairs, however. If your electric furnace malfunctions, contact us to arrange for fast furnace repair service.