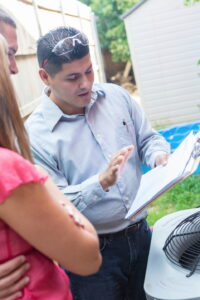 We've been telling customers that we're the "doctor of home comfort," which is something we pride ourselves in being. However, we think it's clear that in order for us to fully feel like your HVAC doctor, we need to also be ready to answer any questions you might have about your comfort technology. This blog post is all about some questions that you might have as an air conditioner owner, and it should serve as a reminder of why a professional HVAC technician is such a valuable resource.
Don't worry, there are no bad questions! If you have a question that needs to be answered, but you don't see it on this list, you can always call our team for support. We're your team of experts, and we can help with any additional air conditioning services in Benton, LA that are required.
"Do Heat Pumps Work in the Winter?"
Yes! There's a misconception that heat pumps are great systems in the spring, summer, and fall, but once temperatures drop even a little bit to where it's chilly, then they're not as good as a gas furnace. While we understand why homeowners think this way, the truth is much different.
Even in areas very far north of us, like Chicago, heat pumps can still work in freezing temperatures. They just don't run as efficiently, and they can run into issues when temperatures drop below zero. Thankfully, we don't get that kind of cold down here.
In our winters, heat pumps work exceptionally well to the point of being perfect for our climate. In most cases, they're even more efficient than furnaces, and they still provide enough heat to keep you comfortable.
"How Expensive Is AC Repair?"
We wish we could give a better answer than "it depends," but it really does depend on the issue, the type of air conditioner you have, and your budget. If your system requires an expensive repair, like a compressor replacement, and the unit has just reached the 10-year mark, then you're much better off investing in a replacement. However, if your system is only a couple of years old and has a minor fix that needs to be addressed, you'll get more from a quick repair. We can help you with an estimate.
"How Long Should My AC Last?"
Air conditioners in our climate do get a lot more use than systems up north, but they should still be able to last at least 10 years. If you're finding that your system is struggling to reach that point, then schedule maintenance with our team so we can get a closer look at it.
"Does My Air Conditioner Consume Refrigerant?"
Absolutely not. Air conditioners are installed with enough refrigerant to theoretically last for the entire lifespan of the system. The only problem with this is that air conditioners can leak refrigerant when problems pop up, and this is where you see recharging refrigerant being an issue. If you suspect your system has a refrigerant leak, then we urge you to call our team for professional support so we can patch the leak, evaluate the damage, and recharge the refrigerant levels to normal!
Hall's Heating, Air Conditioning & Refrigeration can help. Call the doctor of home comfort today!