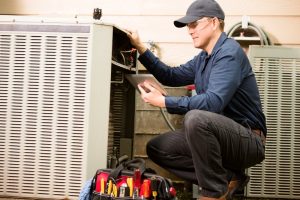 During spring is when we encourage our customers, as well as our soon-to-be customers, to arrange for regular professional air conditioning maintenance with our team. A maintenance visit from one of our skilled technicians will find any spots where an AC needs to have repairs or adjustments, as well as provide a general cleaning and tune-up to alleviate wear and tear on the system so it performs at peak efficiency through the summer. A well-maintained AC should few malfunctions over its service life.
Why ACs Need Regular Maintenance
When you think about the heat we experience in Louisiana during the summers, it makes sense an air conditioner would start to wear down from strain. To help explain why spring maintenance is so important, we're going to take a look at the ways the heat and hard work during summer strain an air conditioner—and the ways maintenance reduces this strain.
Motor stress: The most amount of work strain in an air conditioner is on the motors operating the compressor, the indoor blower fan, and the outdoor fan. Motors collect dust and lose lubrication as they work, and this leads to an AC that must consume more energy to run than it should. It can also cause motors to burn out, leading to a non-functioning air conditioner and a motor that must be replaced. Maintenance technicians check the motors and lubricate and clean them as necessary.
Condensate drain trouble: This is a major issue for air conditioners in a place that gets as humid as Louisiana. Moisture from the air collects along the condensate line and then drips down into a pan where it is drained away. But with so much moisture during the summer, the drain can become clogged. Maintenance cleans the pan and drain to keep them working.
Damaged capacitors: For the most part, an air conditioner is designed to resist summer heat. But there are limits to what even it can tolerate, and the parts that are most sensitive to heat are the capacitors. Capacitors are electrical components that send voltage to the motors to start them and keep them running. Extreme heat can cause a capacitor to lose its ability to hold a charge, and eventually the motors will hard-start—or not start at all. During maintenance, technicians check all electrical parts to see if any are suffering due to heat exposure.
Corrosion: The humidity inside an AC can cause corrosion along wiring and electrical connections. This is something our technicians pay close attention to, since it's a common issue in our humid climate. Maintenance helps alleviate troubles that corrosion can cause to many parts of an air conditioner.
We could write at great length about the many benefits of annual spring maintenance for your AC in Stonewall, LA. But the best route is to contact our office today and learn more about the maintenance program we offer. With our Proactive Service Agreement, you'll receive both a spring and winter tune-up (because your heater needs help as well).
Call the Doctor of Home Comfort today: Hall's Heating, Air Conditioning & Refrigeration serves the Shreveport, LA area.