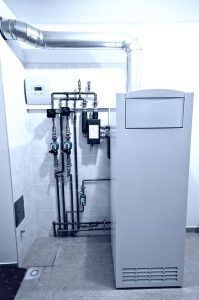 Winter officially ends this week, and we hope you already have plans for your air conditioning maintenance. Early spring is the best time to do it!
But do you also have plans to scrap your old furnace? You just went through another winter with it, and depending on how well it performed, you might be debating having a new one installed before the next winter arrives.
If you feel a bit hesitant about making a decision about replacing your furnace, that's fine. Installing a new furnace is a large investment, and you don't want to jump into it unless it's the most cost-effective option. We're here to help! You can call on us for assistance in determining if you're ready for a new furnace, or if furnace repair in Shreveport, LA can keep it working effectively for a few more years.
First, let's talk about age
How many years can you expect from your furnace? When is the right time to start considering a replacement? The average gas furnace usually lasts around 15 years, and with proper care can work well up to 20 years. Add a few more years for an electric furnace, which undergoes less mechanical strain. But if the furnace hasn't been well-maintained, its estimated lifespan will be halved. We generally recommend looking into a replacement for a furnace that is otherwise working well when it's older than 15 years.
How often do you need to have the furnace repaired?
The frequency of repairs for a furnace is a good measure of how it's holding up. During the first five years a furnace is in a house, it shouldn't need any repairs (again, provided it receives regular annual maintenance). After that point, you shouldn't need to call for repair services more than once a year at most. If you have to repair a furnace twice in one year to keep it running, it's wearing down too fast. Any single repair that would cost more than half the price of replacing the furnace isn't worth it either.
Heating costs are soaring
Look over your energy bills for the past few winters. (We hope you keep records of this!) Are you paying much more to heat your home recently than you used to? If you can account for this cost rise with increased use, then there's no problem. But if you don't understand why the furnace is costing more to run, it's time to have professional examine the system and see if age has taken a toll on its efficiency.
Upgrading to an energy efficient furnace
Another reason to consider getting a new furnace is so you can take advantage of the high-efficiency models available. Even if your 15-year-old furnace is still working and isn't causing spikes in heating costs, making an early change to a unit with much higher energy efficiency can make a major difference. An old furnace could have an AFUE of 70%, while a high efficiency condensing furnace can have AFUE greater than 95%!
Call the Doctor of Home Comfort Today: Hall's Heating, Air Conditioning & Refrigeration.