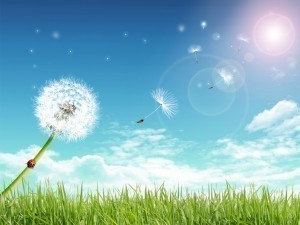 Spring cleaning covers more than just sweeping up dust in a house after the winter is over. One vital cleaning job you should consider scheduling this spring if you haven't had it done for a number of years is air duct cleaning. A clean ventilation system improves the performance of your air conditioning system (and your heater as well when it gets back to work in fall), lowers the amount of dust inside the system that can cause repair needs, and prevents steep drops in energy efficiency.
But duct cleaning also helps with allergy season—which is already here! If sneezing, sniffling, dry eyes and nose, and other spring allergy reactions are making life in your house unpleasant, one way to improve the situation is duct cleaning.
Why does duct cleaning make a difference?
Because the ducts of an HVAC system are a major hiding place for dust, dust mites, dander, pollen, and many other airborne allergens. In a six-person house, the average amount of dust and other pollutants circulated through the HVAC system per year is 40 pounds. Think of how much of that hangs around in the air and leads to allergic reactions.
To eliminate this reservoir of pollutants, duct cleaning changes the air pressure inside the ductwork and agitates the particles from the duct walls. A power vacuum then suctions away these particles. Special spot cleaning with rotary brushes helps cleaners to target areas around vents.
Reducing the pollen count inside your home gives you a haven against the rising pollen count outdoors that occurs during April. You should take other steps to control your allergies, such as with medication and the installation of UV air purifiers. But a good duct cleaning if your home is overdue for it (it's been more than 3 to 4 years) is a great tool for allergy season.
Our team offers quality duct cleaning
A note of caution about duct cleaning services: there are a number of duct cleaning swindles traveling around. Be wary of anyone who first approaches you with an offer to clean your ducts for an extremely low price. In almost all cases, you won't get a professional job, only a quick vacuuming that doesn't address the serious issues of clogged ducts, such as allergies.
We have certified technicians who use the finest tools for thorough duct cleaning for homes. You only have to call us to set up an appointment, and we'll have your ventilation system completely cleaned so you can benefit from better air and a more energy-efficient HVAC system.
We'll take care of dryer duct cleaning for your home as well
We offer more than duct cleaning when we come to your house. We also do dryer duct cleaning in Shreveport, LA that takes care of another important task. Cleaning out the dryer duct improves home safety and increases the efficiency of a drier. Because the lint trapped in the dryer hose and duct is highly flammable, it raises the risk of a house fire. Make sure when you schedule your duct cleaning with us that you also ask about dryer duct cleaning.
Call the Doctor of Home Comfort: Hall's Heating, Air Conditioning & Refrigeration!