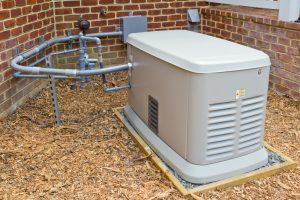 We're proud to call ourselves "The Doctor of Home Comfort" for the area. Part of maintaining comfort for local homeowners now involves installing excellent whole-house generators from Honeywell. (We also install them for commercial buildings.) With a Honeywell Generator in Shreveport, LA for your house, you're protected against a sudden power loss that would otherwise drop your house into the dark—and could mean serious trouble during extreme weather conditions because it would shut down your HVAC system as well. Honeywell Generators come in a wide range of sizes and capabilities, and they turn on automatically in case of a power loss—so you're protected even if you aren't home.
However, a generator is only useful for a house if it turns on when it needs to. If you can't trust your generator—then it's not much good! The whole point is to remove your worries about what happens if there's an extended power blackout.
Caring for Your Honeywell Generator With Our Help
The reason we offer installation of Honeywell Generators is that they're one of the best quality whole-house backup generators on the market. People place their trust in them to come through.
But not even Honeywell can build a generator that will never experience malfunctions. You may need to have service for your generator at times, and we recommend having any work you think may need to be done for your generator scheduled before the winter gets any colder.
A generator must have occasional attention from professional technicians to take care of jobs such as tightening electrical connections, lubricating motors, and checking to see the fuel supply hasn't gone stale (for generators that don't use natural gas from the municipal system). This is the same level of maintenance you have for your home heating system, and it will give you the confidence each season that the generator is in the best shape in case of a power outage.
If you do need to use your generator at some point, we strongly recommend you call on our technicians to look over the system afterward. Generators don't run often, so when they do, it's smart to ensure they're still in the best shape.
As soon as you notice anything "off" with the Honeywell generator we installed for your house, call us. We offer emergency 24-hour repair services for exactly these sort of problems! We'll do everything we can to have your generator made reliable once again.
Selling and Servicing Honeywell Generators
If you've considered having a generator installed for your house, now is a great time to stop considering and arrange for the job with us. We sell Honeywell products, and we're licensed to service the generator we install for you in the future.
And remember, if you own a business in the area, a backup generator can be a company-saver! We handle many different commercial HVAC needs, and we can now supply buildings with commercial Honeywell Generators. Call our commercial experts today to find out more.
Call the Doctor of Home Comfort: Hall's Heating, Air Conditioning & Refrigeration serves Shreveport and the surrounding areas.