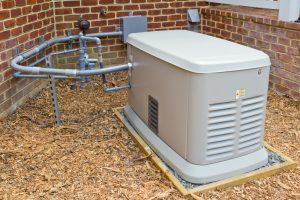 A whole house generator is one of those things that you hope you never have to use. But when you do need it, you sure are glad that it's available. Many homeowners choose to forego a whole house generator and choose a portable one instead. It may seem like a great compromise, but when your power goes out in the middle of a storm, you don't want to pick between using a portable generator on your refrigerator or your air conditioning. 
If you want to learn more about generator services in Shreveport, LA, give our team a call. We can answer your questions and offer a solution that best fits your family's needs. If a portable generator is your choice, awesome! But before you make a decision, it's important to understand the benefits of a whole house generator. 
This system allows you to power up all the important components of your household, from your water heater and refrigerator to your HVAC systems and even your electronic devices and medical equipment if needed. Read on as we uncover 4 main benefits of investing in a whole-home generator.
No Fuel Worries
When you have a portable generator, you have to refill it with fuel manually as it runs out. A whole-house generator connects directly to a propane or natural gas line so there's no refilling necessary. Your generator continues running as long as there is natural gas or propane available in the line. And most of the time, gas lines aren't impacted by storms or loss of power.
Because portable generators burn gas, you have to leave the machine in your garage or outside and run an extension cord to the appliance you wish to power. Otherwise, your family breathes in the fumes. You don't have this concern with a whole house generator because it's already connected and placed in a safe way that doesn't pose hazards to your family or home. 
Automation
When you have a portable generator, you have to fill it up with gasoline and plug in whatever you want to power. If your power goes out while you're away, you won't know how long the power was off. Is your food still good, or do you need to throw it all out? A whole-home generator powers on automatically when it senses that your power is off. 
No matter what the cause – weather, an accident, or your power company working on the lines – your generator kicks on immediately. You don't have to hook anything up in the middle of the night or in the middle of a storm. Power loss will be one less thing you have to worry about in what may already be a stressful time. 
Increased Safety
Fumes from gasoline are dangerous to breathe in, as we already mentioned above. But the fumes are also highly flammable. A whole-house generator eliminates these risks by ensuring that the unit is well ventilated and fumes are directed away from your home. Still, we always recommend that you have a natural gas or carbon monoxide detector in your home to be safe. 
Hall's Heating, Air Conditioning & Refrigeration can help with your emergency AC needs. Call the doctor of home comfort today to schedule an appointment.