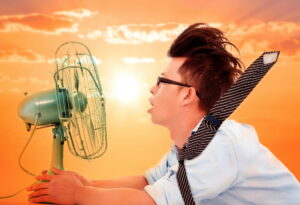 We get it, it's hot and you need help. This is probably the worst time to hear about air conditioning repair because worrying about both the heat and the price of a fix is enough to give you a headache. Well, don't worry. We're not the kind of team to badger you about something you already know. Our phone lines are always open and we'll help fix your air conditioner as soon as you call us.
But what if you've already called us? You might be looking for a bit of help staying cool while an HVAC company in Shreveport, LA comes to get your system running again. That's what this blog post is for!
There are, in fact, a few things that homeowners can do while they wait for professional services. From running your ceiling fan to blocking out sunlight, we'll help reduce your home's temperature by a few degrees.
Keep Temperatures Cool and Stay Safe!
Temperatures can be absolutely brutal here, so the first priority is to keep you and your family comfortable and safe. This can be incredibly hard without an air conditioner, so you're going to want to make sure you call for repairs first before anything else. Then, while our technicians are on the way, you can follow the rest of this guide.
Use Your Ceiling Fan
A ceiling fan is a wonderful appliance when you need your home cooled quickly and efficiently. These systems work for pennies on the hour because they only require a minimal amount of electricity to function at full power. They'll then help circulate air through your home, enabling your body to evaporate sweat more easily and feel a few degrees cooler. Trust us, try running your ceiling fan and you'll notice the difference.
Stay Hydrated
We know that we're not the only people to give you this advice, but that's just because it's so important. Our bodies can release heat by sweating. This process consumes water and it can make us dry out twice as fast as we normally would in the wintertime. Don't physically exert yourself or do things outdoor without a nearby source of drinking water so you can stay hydrated.
Also, keep water bowls full for your pets! They rely on water just as much as we do!
Limit Sunlight Exposure
While sunlight can feel warm and inviting, it also produces heat that can cause your home's internal temperature to increase by a few degrees. Pull down the curtains and shades to block out the sunlight, and you'll notice a demonstrable drop in temperature that will help you feel cool and comfortable while you wait for AC repair.
Don't Push Yourself
Physical exertion can be great for your personal health but it can also be strenuous on the body, especially when temperatures are very high. Make sure you take plenty of breaks and allow yourself to cool down after going for a walk or run. There's no need to push yourself beyond limits that are unsafe!
Call the doctor of home comfort today! The team at Hall's Heating, Air Conditioning & Refrigeration can help.