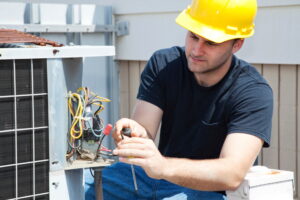 Calling for an air conditioning emergency is something that happens every once in a while. When you experience scorching hot and humid temperatures like we do, losing your air conditioning is scary. Pets, elderly family members, and children can grow increasingly more uncomfortable and even get heatstroke if you're not careful. This is why our phone lines are so busy, so we can get to every customer who needs our help in the heat of the summer.
However, many homeowners don't actually know when the best time would be to call for air conditioning service in Logansport, LA. Sure, we think we know what an AC emergency is, but people are also more likely to look online for DIY solutions than call a professional for the perceived savings.
Today, we'll talk about when the right time is to call for help, and why it's so important!
A Few Examples of an Emergency AC Problem
In order to give you a clear example of what an emergency AC problem is, we need to provide some examples. If any of these sound familiar, or if you're tired of experiencing a few of these points, then our phone lines are open for your call!
Complete system breakdown. This is the most obvious reason to call for emergency AC support. If your air conditioner isn't working at all, then you need a professional to get it up and running again. Our team is trained and experienced enough to make that a certainty.
Loud and uncomfortable noises. A loud noise can mean a variety of different things. Shrieking, grinding, rattling, hissing, or bubbling all signify different problems occurring in your air conditioner, but none of them are good! Each one warrants professional support and we can be there to help.
A spike in your energy bill. You should be able to expect what your energy bill is going to look like. If you get a sudden spike in your energy bill, that could be a death knell for your budget. Call our team to get your inefficient AC checked out.
Poor comfort. What's the point of having your air conditioner if it doesn't provide comfort? This can be an AC emergency, especially during a heatwave, and our team can provide the support necessary to fix it.
When to Call for Help
This is the tricky part. While some online tutorials and guides might tell you that you don't have to call for professional help when one of these things happens, the truth is the opposite. Even if you don't think your problem is an emergency, a professional can still help get to the bottom of the problem.
The truth is that you don't know how serious the problem is until a trained professional can take a look at it. A loud noise in your AC could signal that it's about to break down on the hottest day of the year, and you want to be ready for that, right?
By calling our team, you get access to professional help that can target the root of the problem, while also staying away from botched DIY fixes and voided warranties.
Hall's Heating, Air Conditioning & Refrigeration can help you. Call the doctor of home comfort today.