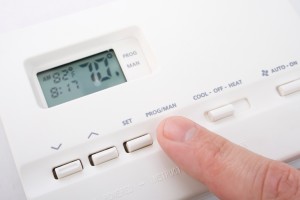 The poor thermostat! It's often the most overlooked and neglected part of any home's heating and cooling system, even though it's one of its key components. After all, the thermostat is the control panel for the HVAC system, the place where a homeowner interacts with the air conditioning and heating. But since the thermostat is such an unassuming device, designed to blend in with the home décor, people often take it for granted.
But ignoring a home's thermostat can mean trouble. An inferior thermostat will lead to poor comfort and increased energy waste. As we wrote about a few weeks ago on this blog, simply taking the time to properly adjust the thermostat during the year can help lower your energy bills. Imagine what a major thermostat technology upgrade can do!
When customers looking for new thermostats in Shreveport, LA ask for our assistance, we often recommend they replace the old units with Wi-Fi thermostats. This isn't a single model of thermostat, but a wide category that encompasses numerous options. We'll help you narrow down your focus to find the Wi-Fi-enabled thermostats that will work best with your current HVAC system and also match your budget.
Even the Simplest Thermostat Upgrade Is Still an Upgrade
Before we even get into Wi-Fi thermostats, here's an important reminder: even taking the small step from a manual thermostat (the type that uses sliders and dials) to a no-frills digital model is an upgrade for a house. The trouble that manual thermostats face is that they lack precision for temperature settings, with swings of 1 to 2°F or more. Increasing temperature precision, no matter how small, helps lower energy costs and improve indoor comfort.
The Wi-Fi Thermostat Difference
An ENERGY STAR-certified Wi-Fi thermostat offers a many advantages. Here are only a few:
Programmability: Any Wi-Fi enabled thermostat will also have programmability. You can set the thermostat to turn on and off even when you're asleep or away from home. You can wake up or return home to comfort without needing to leave the AC or heater running all day.
Control from anywhere: The wireless capability of these thermostats means you can operate them from anywhere you have Wi-Fi access. You can use a computer to manipulate the comfort controls, or use an app on your smartphone or tablet. The comfort of your house is at your fingertips from virtually anywhere.
Flexible placement: It's easy to have Wi-Fi thermostats installed any place in your home because they connect wirelessly with the HVAC system. Professionals can install the thermostats in the ideal locations to correctly sense the temperature of the house and various rooms.
Remote controls: Most Wi-Fi thermostats come with remote controls so you can easily change temperature settings from across the room without needing to get up.
Rely on Professionals for Installation of Wi-Fi Thermostats
Because there are so many different brands and types of Wi-Fi thermostats with a range of features (such as smart programming that finds the best settings for you), you want to make sure that you only call on HVAC professionals to help you select and install them. We offer all types of thermostats, and our experience with home comfort means we'll know the right type to match with your home's AC and heater.
Call the doctor of home comfort today: Hall's Heating, Air Conditioning & Refrigeration!