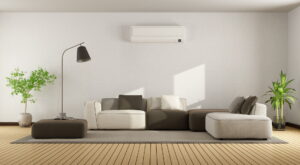 A good many homeowners in our area think that ductless systems are strictly reserved for people without air ducts. If you sadly look at your air ducts and wish that you could just get rid of them and invest in a nifty ductless system, then surprise—you can! While ductless systems are definitely a different type of cooling system when compared to a central AC, they're perfect for many homes and can easily be a step in the right direction.
Come one and all, anyone who is newly interested in ductless technology and old industry veterans who have been around these systems before. Let's discuss the benefits of ductless systems and figure out whether an upgrade to a ductless unit would be right for you.
Spoiler alert: there's a good chance that your home could absolutely benefit from ductless HVAC in Shreveport, LA.
When Is the Perfect Time to Go Ductless?
This is an interesting question, and we want to make sure we give the best answer possible. Ductless systems are heat pumps, which means they can both heat and cool a home. This is an important distinction from central air conditioners, since central AC systems can only cool the air in homes. So, one great reason to invest in ductless HVAC technology is because you want to replace both your old air conditioner and your old heater. Killing two birds with one stone is always a good way to save money and alleviate stress.
Another good time to invest in a ductless system is when you're looking for ways to increase household energy efficiency. Ductless heat pumps are incredibly energy efficient to the point where homeowners invest in them sometimes because of how much of an efficiency upgrade they are. Take a look at the SEER rating of your prospective ductless system and compare it to your existing unit.
Unique Advantages of Ductless Systems
If you're looking for a few more reasons to invest in a ductless system, take a look at our list below.
No ducts. This is a no-brainer. If you don't have ductwork in your home or you don't want ductwork in your home, then ductless HVAC systems are the obvious answer for you. Ductwork installation can be intrusive and expensive, so this could be a great alternative!
High efficiency. Ductless HVAC systems are incredibly efficient and they'll reduce your energy bills every month.
Versatile temperature control. Since all the air comes from different air handlers in your home, you can specifically set the temperature for each one so that you have versatile comfort control. No more fighting over the thermostat in the middle of the house!
Convenience. If one of your ductless mini splits breaks down, that can be a pretty big deal. However, all the other ductless mini splits in your home will keep working, providing you with comfort in certain areas of your home. This convenience, along with the versatile temperature control, can make your life a lot easier when something unexpected occurs.
Click here to contact Hall's Heating, Air Conditioning & Refrigeration. Call the doctor of home comfort today!