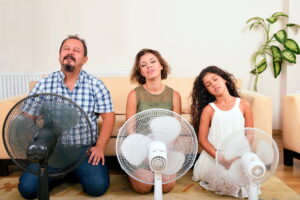 Summer is just around the corner, and with it comes much higher temperatures. As our days heat up, you want to make sure that your air conditioner can meet the challenge of keeping your home cool all summer long.
The last thing you want is to come home one day and find out that your air conditioner stopped working, and you're faced with an emergency replacement. 
The question is, how do you know when your AC is ready for an upgrade? Sometimes the signs are clear and other times you might need an expert to help. The good news is, our team is the local experts when it comes to air conditioning service in Bossier City, LA.
We can take a look at your air conditioner and let you know if it's time for a replacement or if you have some life left in it. You can keep reading to learn more about the signs that it's time to replace your air conditioner with a newer model. 
Average Lifespan
Most air conditioners will last for around 15 years before they need to be replaced. Some air conditioners may not last as long if they are not well-maintained. Other air conditioners that are very well cared for can last even longer than 15 years. The life of your air conditioner has a lot to do with whether or not you should replace the unit with a newer version when you're faced with the decision.
If you're facing very expensive AC repairs, it may make more sense to replace the unit if it's already nearing the end of its life. Your money is better spent investing in a more energy-efficient model than trying to keep your old one running for a few more seasons.
Plus, when you buy a new unit, you can go into the investment understanding the importance of proper care and maintenance. When you take excellent care of your investment from day one, it's much more likely that the system will last longer. 
Increasing Repairs
You also want to consider the number and cost of recent repairs. If it seems like you've needed frequent repairs, that's a red flag. It's also a problem if your repairs are adding up to thousands of dollars. Experts say that you should never spend more than half the cost of a new unit on any AC repair. But if you're making frequent repairs, you may want to add up all of those costs and see how close it gets so that 50% rule. 
Type of System
Some older air conditioners use an outdated type of refrigerant called R22. Advancements are continually being made to ensure that air conditioners are safe for the environment as well as being energy efficient. R22 refrigerant was discontinued because of its negative impact on the environment.
If your older AC is facing repair needs with this type of refrigerant, you are much better off replacing it with a new model. You will be investing in a much more energy-efficient system that can save you a lot of money each month on your energy bills. Plus, you know that you're making a positive impact on the environment with your investment.
Hall's Heating, Air Conditioning & Refrigeration can help with your emergency AC needs. Call the doctor of home comfort today to schedule an appointment.