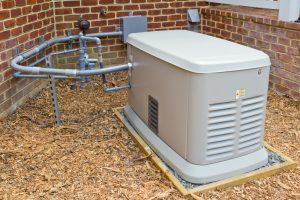 If you have a whole house generator installed, you want it to work great the first time it turns on every time. A power outage is not the moment you want to find out your generator has something wrong with it. That's why scheduling annual maintenance is so crucial.
The good news is, our team offers generator service in Shreveport, LA. We can complete a thorough inspection of your generator and make sure that everything is working as it should. Keep reading to learn more about the three main benefits of generator maintenance and why you want to schedule your appointment now, ahead of hurricane season.
Safety
Your generator is largely about comfort and convenience, but our number one priority is safety. Safety is the top reason that we recommend you have a generator inspection every year. You don't have to use your generator very often, so things can go wrong without you even realizing it. During a generator maintenance appointment, our team will check all of the connections, including gas lines, to make sure everything is secure.
If there are any areas of concern, we will let you know and make any repairs or replacements that are needed. That way, you can rest assured that when you do need your generator, it will operate safely without posing any hazards to your home or family.
Expensive Repairs
Generator maintenance is also a great way to stay ahead of more expensive repairs. Generator problems can be difficult to identify since they can be silent and largely invisible at first. By the time your generator is showing signs of problems, damage has already begun to spread and worsen.
It's much better to catch problems before they even begin. Our team can lubricate parts, tighten screws and replace belts or connections so that your generator is always in the best shape possible. Putting off a generator maintenance appointment may not seem like a big deal if nothing obvious is wrong. You've heard the old saying: "If it's not broken, don't fix it." But, this attitude can cost you later when you have to spend more on a larger repair.
Losing Power
The biggest concern for many homeowners is that their generators simply may not power on when the time comes. As we already mentioned, you don't want to find out that your generator has a problem during a power outage. You want your generator to turn on seamlessly, as if you never lost power at all. Annual generator maintenance is a great way to make sure this is exactly what happens.
Since hurricane season is just around the corner, now is a great time to schedule your maintenance appointment ahead of the rush. As the summer and hurricane season go on, we will get more and more requests for generator maintenance. You can schedule now and stay ahead of that rush.
Hall's Heating, Air Conditioning & Refrigeration can help with your generator needs. Call the doctor of home comfort today to schedule an appointment.