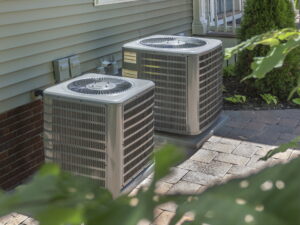 When it's time to install a new air conditioner, picking the right-sized unit is perhaps the most important factor. If your air conditioner is too small, it won't be able to keep up with cooling your home. Many homeowners think that investing in a larger AC will make cooling more efficient, but if your air conditioner is too big, that is just as much of a problem. 
When you need AC installation in Shreveport, LA, you want to trust your home to the experts in the area. That's us! We can walk you through choosing the right air conditioner for your home and help you optimize efficiency so that it'll last for years past the average AC age. Keep reading to learn more about why the size of your air conditioner is so important.
What if an AC is too small?
When an air conditioner is too small, it cannot meet your cooling needs. As a result, your AC will run almost constantly in an effort to cool your home. Yet, the indoor air temperature will never meet your expectations.
You may battle with adjusting thermostat settings in an effort to cool your home, while never feeling comfortable. Plus, your energy costs will skyrocket since your air conditioner is running more than it should. 
What if an AC is too big?
Bigger is not always better. If your AC is too large, it will bring down the temperature in your home faster than it should. This can lead to short cycling as your air conditioner constantly turns on and off. Your AC may be cooling your home, but the individual cooling cycles will not last long enough to also remove humidity from the air and channel heat outside as it should.
As a result, your home may not feel as cool as you want it. Instead, the air may feel heavy and muggy. As your air conditioner turns on and off, it is taking on more wear and tear that will shorten its lifespan. 
Considerations for Choosing an AC Size
The first thing to consider when sizing an air conditioner is the BTU rating. This is a calculation for the overall cooling capacity of the air conditioner. The higher the BTU rating, the more cooling the unit can provide. Our team chooses a BTU rating based on two factors.
The first one is the overall square footage of your home, and the second one is the climate zone. Some areas of the country need more cooling power because it gets hotter outside, while other areas of the country need less cooling power. Here in the south, you definitely want to make sure you have the cooling power to combat the hottest days of the year. 
You also want to consider the SEER2 rating. Each individual air conditioner will have a unique SEER2 rating based on its energy efficiency. This rating is calculated by the output of cooling compared to the amount of energy that is used for the cooling process. The higher the SEER2 rating, the more efficient your AC will be.
Keep in mind that a more efficient AC can cost more upfront for installation. However, you will enjoy the benefit of spending less on your energy bills over the life of the unit. In fact, the savings could add up so that you actually spend less on installation and energy costs combined compared to buying a less energy-efficient air conditioner. 
Hall's Heating, Air Conditioning & Refrigeration can help with your AC needs. Call the doctor of home comfort today to schedule an appointment.