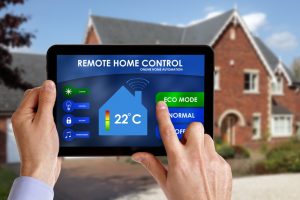 In a post we wrote at the beginning of the year, we talked about why we recommend having a Wi-Fi thermostat installed for your home's comfort controls. Here's a quick rundown:
Wi-Fi thermostats help you save energy by allowing you to control the your home's climate remotely from anywhere you have Internet or satellite access with a smart phone, laptop computer, desktop computer, or tablet.
The smart capabilities of Wi-Fi thermostats improve upon your own settings to find new ways to save energy. You don't have to do the work—the thermostat will take care of it.
When you're planning to have a new HVAC system installed, there's no reason not to have a Wi-Fi thermostat included as part of the installation. You want to receive the best performance from any new comfort system, and including the best type of thermostat will help see you get that best performance.
But There Is a Reason You Need to Be Cautious
Whenever we talk up how great Wi-Fi thermostats are, there's a concern people might become a bit too enthusiastic about them and dash off to purchase the best one they can find. And they're easy to find: you can locate many models offered at low prices through online retailers. This makes it tempting to purchase one and then call up a professional HVAC contractor to have it installed for you.
Don't do this! Choosing a Wi-Fi thermostat—or any new climate control systems for your home—is a task you must do with the assistance of licensed HVAC professionals only.
The reason for this is that a thermostat must be matched to the HVAC system. The modern Wi-Fi and smart climate control systems run from complex computer algorithms, and these may be incompatible with older air conditioners and heaters. It's possible for a new thermostat to actually cause damage to the HVAC system.
Because of this possibility, the warranties for HVAC systems often have stipulations that void the warranty if the original thermostat is replaced with one that isn't right. You definitely want to keep your warranty current—it's what protects you from an expensive replacement in case the AC or heater breaks down years too early under normal use—so don't try to find a Wi-Fi thermostat on your own. Let our professional technicians help!
In cases of extremely old HVAC systems (more than 15 years) our advice for a thermostat upgrade is to upgrade the entire system. We can install a new air conditioner or heater with superior energy efficiency and have it matched with the best in new climate control technology. You'll end up with the cutting edge in heating, air conditioning, and ventilation, which will help you save money in many ways, not just from the advanced Wi-Fi thermostat.
If you want to upgrade your thermostats in Haughton, LA, make sure the people you call are licensed professionals. Our team has the experience to make sure you have the best new thermostat installation, done correctly so you can enjoy the finest in comfort and savings in your home during this summer and many summers to come.
Call the doctor of home comfort today: Hall's Heating, Air Conditioning & Refrigeration!