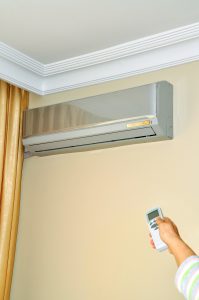 The fall is an ideal time to take care of HVAC installations in your home, both heating and cooling. The period between the harshest weather of the year allows you to take stock of your home's comfort needs without feeling rushed. It's also a good time to take advantage of the slower schedules of HVAC professionals, who aren't under the burden of handling numerous AC or heating emergency repair calls.
So as we wrap up another hot and humid summer here in Louisiana, we encourage you to think about whether it's time to retire your current cooling system and have a new air conditioner installed. If you think that, yes, 2017 is the year when you have a new AC put in, then you might want to think about the possibility of going with a ductless air conditioning system. Our technicians are experienced with working with ductless mini split systems, and they're glad to help you make the choice and take on the installation duties.
What Does "Ductless" Really Mean?
Pretty much exactly what it says: a central air conditioning system that doesn't use air ducts running through the house to room vents. So how does this work?
It's similar to the way a window air conditioner operates, except it removes the pesky part of a window AC unit where it protrudes outside and only works in a single room. A ductless mini split heat pump operates through a series of small blower units placed on the walls (usually over doors or windows) in different rooms of a home. These blowers have refrigerant coils and fans in them and blow cooled air straight into the room, much like a window unit. Unlike a window unit, these blowers connect through refrigerant and power lines through a small hole in the back of the wall to connect them to an outdoor cabinet. This provides central power and efficiency, much like a standard central AC, but without any ducts.
Why Should I Consider Using a Ductless System?
If your home already has ductwork for a central AC, ductless isn't usually the best option, unless you're thinking about remodeling. If you want to make changes to your house or add on new rooms, going with a ductless system frees you up to do more, since you no longer have to worry about leaving space for ducts or having to alter the HVAC system to account for new areas.
If you don't have a central AC because you live in an older house built before ductwork became common, going ductless is a great opportunity to ditch those wasteful window units. Keep in mind that you're also getting a heating system, since most ductless mini splits are heat pumps that offer both heating and cooling functions with only a simple adjustment on the units.
There are other benefits of going ductless: they are highly efficient because they don't gain heat through ducts, can help improve indoor air quality, and allow for zone control because each blower can be operated separately from the others through remote controls.
To find out more about ductless heating and cooling or to schedule another air conditioning service in Bossier City, LA, feel free to contact our offices.
Call the Doctor of Home Comfort: Hall's Heating, Air Conditioning & Refrigeration