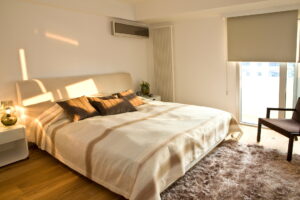 If your air conditioner has been acting up this summer, it may be time to install a new system before your problems get worse. It's always better to install a new air conditioner on your terms instead of waiting for a complete breakdown to make your move.
And our team is here to help you with all of your AC needs including AC installation in Haughton, LA. You can keep reading to learn more about the different types of air conditioners we install in homes as well as the pros and cons of each one. Then give our team a call to schedule your in-home assessment so we can help you make the best choice for your home and family.
Central AC
A central air conditioner is considered the tried and true option for cooling your home. This type of system connects to a network of ducts throughout your home and connects to vents in each room. When this network of ducts is set up correctly and properly sealed, central air conditioners can be highly energy efficient and effective at cooling homes. 
They do get a bad rap because of potential air loss through the ductwork. However, this is not a pitfall of an actual central air conditioner. Instead, it is an indication that you need to have your ducts looked at, resealed, and maybe rearranged. If you already have a central air conditioner, replacing it with another similar model makes installation a breeze because all the existing connections should line up.
Heat Pump
A heat pump is very similar to a central air conditioner. In fact, it works in the same way for providing cooling to your home. The one difference is that a heat pump also has a reversing valve that allows the refrigerant to flow in the opposite direction and heat your home during the cooler months.
The benefit of a heat pump is that you do not need a separate heater installed in addition to your air conditioner. This all-in-one heating and cooling system can save you some storage space and also boasts impressive energy efficiency. Like a central air conditioner, heat pumps also connect to ductwork in your home.
Ductless Mini Split
A ductless mini split system is a heat pump that doesn't connect to ductwork. Instead, you essentially have miniature air conditioners in each room of your home that provide temperature control for that individual zone. The great benefit of this is that no air gets lost in ductwork, meaning that 100% of the air that gets heated or cooled, blows directly into your home. 
You stand to save up to half on your energy costs for heating and cooling your home when you invest in a ductless mini split unit. However, you didn't want to keep in mind that these particular systems can be more to install upfront and have higher maintenance expectations.
Geothermal Cooling
Geothermal cooling is very similar to how a heat pump operates. A heat pump transfers heat through the air, while a geothermal unit transfers heat to and from the ground. Our team installs a system of conductors underneath your yard. In the summer, heat gets transferred out of your home and into the ground. Then in the winter, the process reverses and the system transfers heat from the ground into your home. These units are considered highly energy efficient and effective.
Solar AC
You have a couple of different options when it comes to solar air conditioning. The first is to buy an adapter that allows you to turn nearly any air conditioner in your home into a solar-powered air conditioner. The other option is to install a unique air conditioner that is designed specifically to be solar powered. 
Either way, having a solar-powered air conditioner offers many benefits. Perhaps the most significant is the reduction of carbon dioxide, which harms our Earth's ozone layer. Additionally, solar ACs can cost much less to power compared to air conditioners that use electricity.
Hall's Heating, Air Conditioning & Refrigeration can help with your emergency AC needs. Call the doctor of home comfort today to schedule an appointment.